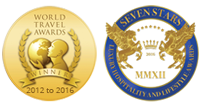 Welcome to the best way to discover India in luxury.
Royal Indian Trains is an Indian luxury train travel portal where you can discover, explore and enquire about the luxurious and offbeat rail journeys that India has to offer.

Each luxury train has it's own experience and charm on offer with their unique brand of hospitality, amenities and destinations.
Why Choose Luxury Trains in India?
Safe
Experienced staff and personnel ensure that safety measures and precautions are in place.
Comfortable
No other mode of transportation match up to the opulence of Indian Luxury Trains.
Save Time
A well planned itinerary coupled with a strategically connected rail network helps you see various destinations in India in a short span of time.
May Tiampo, Vancouver, Canada
17 - 24 Nov 2012
Karen Holmberg, UK
17 - 24 Nov 2012
Mitchell Muntner, New York, USA
03 - 10 Oct 2012
Manuel Mourao, Spain
20 - 28 Oct 2012
Taylor, New Jersey, USA
20 - 27 Oct 2012
Judith Moorthy, Queensland, Australia
06 - 13 Oct 2012
H.Wall, UK
17 - 24 Feb 2012
Clarence M Bishop
Oregon, USA
David & Susie Burall
West Sussex, UK
Stephanie Campbell & Jankopic
Stephanie Campbell & Jankopic, Los Angeles, USA
19 - 30 Jan 2012
Hendrika Kuijlars & Marcel Jacobs, Schilde
Belgium
Ann Clivette & Arthur Taylor
UK
Nancy & John Rumler, Victoria
Australia
Kirti & Paresh Shah
Middlesex, UK
Ju Yin & Lee Yu Fang Chang
China
Bipin & Eila Pabari, UK
18 - 25 Feb 2012
Sasha Jairam
Republic of Trinidad & Tobago
Gambini Jean Pierre Mathieu
France
Joan & Carie Fletcher, Surrey
UK
Ella Gupta, Delhi, India
15 - 21 Jan 2012
Lionel & Laura Mill, London, UK
14 - 21 Jan 2012
Elina & Eduard Apsit
Russia
Michael & Anne Fontayn, UK
14 - 21 Jan 2012
Benny Gal,Isreal
11 - 18 Feb 2012
Anne & Stephen Hayes
New South Wales, Australia