Extretion
A simple and automated process to search and book places to stay
7 Nights Royal Rajasthan on Wheels Train Tour Ex Delhi
Introduction
After the grand success of Palace On Wheels, the same train operator , decided to launch a luxury version of Palace On Wheels From Jan 2010 on a similar Rajasthan tour circuit with add on destinations of Khajuraho & Varanasi.
Facilities
This luxury version of Palace on Wheels train has more spacious cabins & it's rich interiors offer a modern look The Passenger saloons have three deluxe cabins each with attached bathrooms & twin beds; You also have option to Book Super Deluxe cabins with queen size beds. There are 2 retro bar lounges, with facility to service all the Passengers in one sitting. The guests can also avail facility of onboard aryuvedic spa at extra costs. Your off board group excursions are arranged in air-conditioned Vehicles with English speaking guides.
Train Program :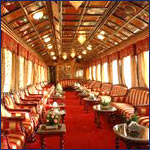 Royal Rajasthan on Wheels Train TourThe 7 Nights/8 days Royal Rajasthan on Wheels train tour departs from New Delhi on Sunday afternoon & covers Palace town of Jodhpur(Monday), Venice of the east-Udaipur & Chittaurgarh Hill fort(on Tuesday);Ranthambhore forest & Pink city of Jaipur(on Wednesday);Kama sutra temples of Khajuraho(Thursday);Holy City of Varanasi & Sarnath(Friday) & Taj Mahal at Agra (Saturday) before returning to delhi on next Sunday morning Cost towards Elephant ride & Cultural program in jaipur ;sound & light show at Chittaurgarh; boat ride Udaipur lake; Jungle excursion to Ranthambhore Tiger reserve & Boat ride on Holy Ganges in Varanasi are all included in the train tour program The train operates from October to march annually.
Schedule: 2016-17 Season
7 Nights Royal Rajasthan Train Tour Depart Ex. New Delhi
Month
Depart Date
Oct 2016
30
Nov 2016
20
Dec 2016
04, 25*
Feb 2017
19, 26
March 2017
19
Note:


10% Holiday Surcharge Extra for 25 Dec 2016 Depart
Train tour will operate subject to MINIMUM 25 passengers-or advance refunded
Special Four Nights Charter Runs on Sunday Departs of 02,09,16 & 23 Oct 2016; 06,13 & 27 Nov 2016; 11 & 18 Dec 2016; 01,08,15,22 & 29 Jan 2017; 05 & 12 Feb 2017; 05,12 & 05,12 & 26 March 2017 (contact rajiv@royalindiantrains.com for details)
Special Three Nights Charter Runs on Thursday Departs of 06,13,20 & Oct 2016; 10 & 17 Nov 2016; 01,15 & 22 Dec 2016; 05,12,19 & 26 Jan 2017; 02,09 & 16 Feb 2017; 09,16 & 30 March 2017 (contact rajiv@royalindiantrains.com for details)
Tariff : 2016-17 Season
7 Nights Royal Rajasthan On Wheels Train Tour Cost Per Cabin-(Taxes Extra)
Occupancy / Cabin Type
No of Persons Per Cabin
US$ Tariff
(For Foreign Passport Holders)
INR Rs. Tariff
(For Indian National)
Deluxe Cabin
Single
One
US$ 6300
Rs. 3,78,000/-
Double
Two
US$ 9450
Rs 5,67,000/-
Super Deluxe Cabin
Single / Double
Maximum 2
US$ 12,600
Rs. 7,56,000/-
Note:


Dual Tariff for Indian Nationals & Foreign Passport Holders
Add Govt. Taxes Extra ,as applicable on date of journey
Add 10% Holiday Surcharge Extra for 25* Dec 2016 train depart
Option to book for FIVE Nights New Delhi/Varanasi part journey & pay accordingly
Maximum 2 persons> 5 years are allowed to travel in One Cabin
Children < 12 years charged 50% of Adult Cost & Share Cabin with One Adult
Children below 5 years are charged 10% of Adult Cost(But,Not Provided Bed)
Train Tour cost Includes :
Onboard stay with all meals; bottled drinking water; Group Excursions & Sightseeing Tours in Air Conditioned Coaches with services of English Speaking Guide; Monument Entrance Fees; Boat Ride in Udaipur; Canter Ride in Ranthambhore; Elephant ride in Jaipur; Boat ride in Varanasi
Extra Costs(not included) :
Video Camera fees at Monuments And National Parks; Alcoholic & Non Alcoholic beverages; Use of Spa facilities; Laundry; Tour Insurance; Tips to Staff; Porter fee; Hotel stay; Visa Arrangements for India and all other expenses of personal nature.
Booking Terms & Conditions
Royal Rajasthan on Wheels Booking Procedure:
We require Names/Nationality/date of birth of all the passengers to process your booking request
Your booking will be confirmed on receipt of minimum 20% of total ticket value
Full payment must reach us at least 65 days before tour date with photocopy of passport
Booking request made < 65 notice will be confirmed on receipt of one time full tour value.
Royal Rajasthan on Wheels Cancellation Rules:
The Royal Rajasthan On Wheels is a joint collaboration of Indian Railways & Rajasthan Tourism Dept & rules accordingly framed.
Train Tour bookings are Non-endorsable.
Only on receipt of written request, will we process your cancellation request.
MINIMUM cancellation levy of 20% of total ticket value if cancellation request made > 65 days in advance
Cancellation request made between 65 to 35 days before tour depart will attract cancellation fee of MINIMUM 50% of total ticket value.
Passengers are liable to pay full 100% of Total ticket value, if cancellation request less than 35 days before train depart.
Request made to change date of travel will be governed by cancellation rules
Failure to meet payment deadline will be treated as per cancellation rules
Payment Options :
Guests can pay online by Credit Card Authorization( VISA/ MASTERCARD only)
OR
Swift wire transfer
OR
Indians can pay in equivalent Rupees by RTGS/Cheque payable at par in New Delhi(India)
IMPORTANT:
The Royal Rajasthan On Wheels train tour is operated & managed by staff of State Tourism dept of Rajasthan Government.
Liability of Lawrence Travels & Tours Pvt Ltd is limited to that of booking agent only & not that of Principal train Tour operator
Disputes, if any, are subject to jurisdiction of New Delhi (INDIA) courts only.
Maharaja Express Tours
Other Luxury Trains